International Space Station (ISS)

The old Mir space station splashed down in the pacific ocean after reentry in the earth atmosphere on march 23 2001...

The International space station ISS is active.

Since december 16th, the fourth permanent crew is composed of :

Commander Yuri ONUFRIENKO : RK3DUO,

Flight Engineer Carl WALZ : KC5TIE,

Flight Engineer Dan BURSCH : KD5PNU,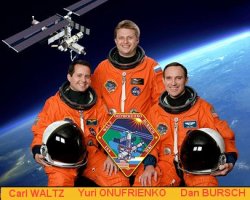 The crew has expressed a high interest for amateur radio operations .
At the beginning just the 2 meters band will be active.
The station is also active on packet radio ...


Activities planned on the following frequencies :

Downling phone and packet : 145.800 Mhz.

Packet uplink (all regions): 145.990 Mhz.

Region 1 phone uplink : 145.200 Mhz. ( Europe ).

Region 2 and 3 phone uplink: 144.490 Mhz.

LISTEN the service frequency : 143.625 Mhz...



FCC has given the ARISS station the following callsign = NA1SS
, which will be used by the crew, and the second callsign = NN1SS by the ground control ( GSFC ).



The following callsigns :

DL0ISS, RZ3DZR

, and the personal calls may also be used : ( U5MIR and R0ISS ).

PACKET CALLSIGN : RZ3DZR

BBS CALLSIGN of the STATION : RZ3DZR-1


QSLs.
Send your QSL cards or reports to one of the following addresses.
For the USA :
ARRL Headquarters
ARISS QSL Expedition-2
225 Main Street
Newington, CT 06111-1494 USA


For Canada :
Radio Amateurs of Canada
ARISS QSL Expedition-2
720 Belfast Road, Suite 217
Ottawa Ontario
K1G 0Z5

Please include your QSL or report: date, time in UTC, frequency
and mode (voice, packet or sstv).
If you wish to receive a card, you must include a large,
self-addressed, stamped envelope with proper
postage or sufficient IRCs included.

KEPLERIAN ELEMENTS
( update your tracking program )